Designed by FM Studio, these gorgeous tiles are the Friul Mosaic Curve collection – versatile and unique as characterised by the company's designs. 
For its new catalogue "Contemporaneo", Friul Mosaic presents Curve, characterised by a fascinating geometric shape, that of the circle, which allows you to combine your own lines to cover portions of the project without leaving empty spaces. This is achieved by having triangles forming around each vertex.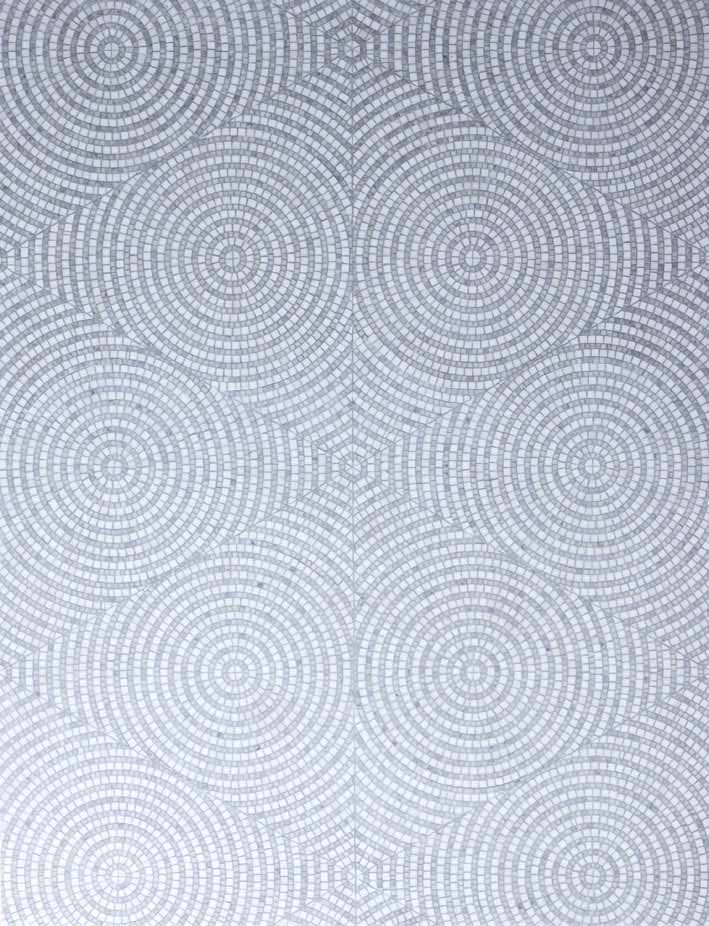 The Friul Mosaic Curve collection is equally applicable to the home, hotel or spa environments and creates a unique effect thanks to the composition of tessera in marble mixed together with alternating elegant whites and other colors. The different materials bring life to optical combinations that can be personalised.
Friul Mosaic has more than 30 years' experience in the field of mosaics and the company embodies a vision that embraces tradition and innovation. It employs mosaic techniques to create surfaces of any size, with the flexibility of use and the potential for customisation and characterisation.
Friul Mosaic, thanks to its artists who still cut the tiles with a hammer, realises mosaics that the company says "will become a painting destined to last in time". All its products are made entirely by hand inside its own laboratory, with rigor and precision tailor-made without losing sight of the needs of interior design and new decorative possibilities.
Friul Mosaic Curve is available in combinations of Carrara white marble and white Thassos; Azul Cielo, Azul Macauba; Mint Green, Green Ming; Black Marquina, Gold; and mixed Beige Carrara. Each tessera measures 1.5cm x 1.5cm.
For more information visit http://www.friulmosaic.com