The Corian Design Awards Twenty17 recognise outstanding design in the commercial and residential sectors. The winners of Edition 4 have been announced and they are:
Uber contemporary estate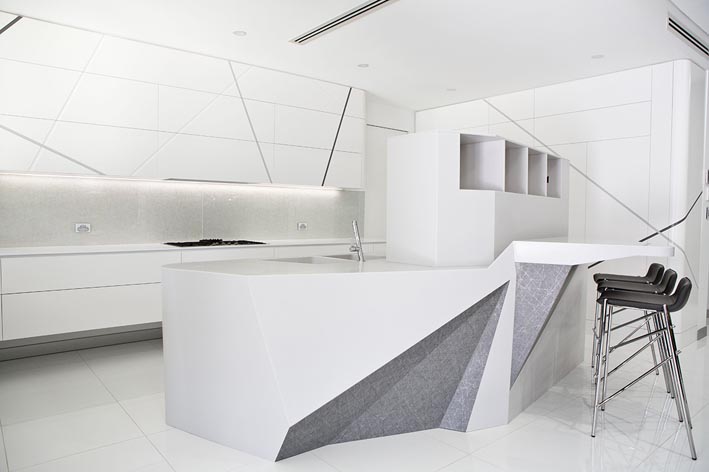 Corian® Colour(s): Designer White and Pearl Grey
Design by: Kassandra Richards of Tweaq Group
Fabrication: DJM Wood Products
Photography: Yasmine Parker
The brief for this project was to create a high end ultra modern kitchen with a sculptural element, having the island bench as the centrepiece. This kitchen was to be a piece of art and make onlookers question whether it was for function or purely form.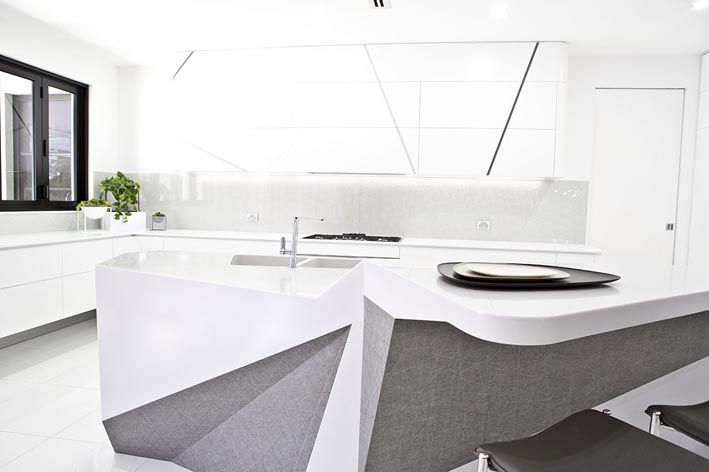 But, don't be fooled, this kitchen is the ultimate entertainer, so when selecting the product to create the desired look it was no question that Corian® would be chosen. In fact, Corian® was decided on before the design was even conceived.
With electric touch doors and a lift mechanism in the centre of our island bench to contain all useful cooking contraptions this design is the perfect balance of form and function. Corian® was used on all bench tops and, with the entire island including cabinet doors and sink formed out of Corian®, it leaves a seamless sculptural centrepiece in the middle of this artisan marvel.
When designing this piece it was created not so much with mathematical precision but with artistic license meaning the joiner was provided with a 3D walk through to assist in the understanding of the way the island bench was to be constructed. but was essentially allowed to utilise his master tradesmanship as he saw best. He was quoted saying "a lot of the time designs might have unusual angles or a curve here and their but this design had it all making it one of the hardest to construct."
The Corian® worked exactly how it was supposed to creating a sculptural seamless piece of art. The Corian® allowed there to be no limits on design – it enabled angles, curves and no joins right down to the sink being melded into place. It has also created a sustainable kitchen that will last as long as the foundations of the home.
Loftus Lane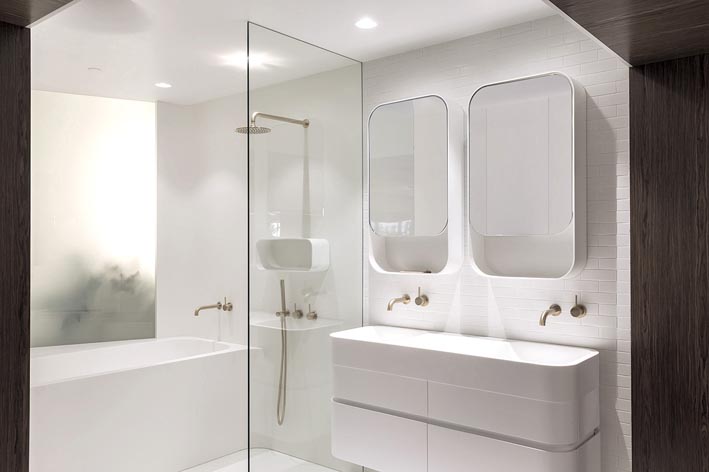 Corian® Colour(s): Glacier White
Design By: Jad Silvester
Builder: Intermain
Joiner: Intermain
Fabrication: Palette Solid Surface and Fabrications Pty Ltd
Photography: Ross Honeysett/Silvester Fuller
Designed as a unique concept to achieve seamless integration, this interior's design centred around health and wellbeing: living well, sleeping well and bathing well. To achieve this the bathing areas are seamless, easy to clean and light-filled spaces.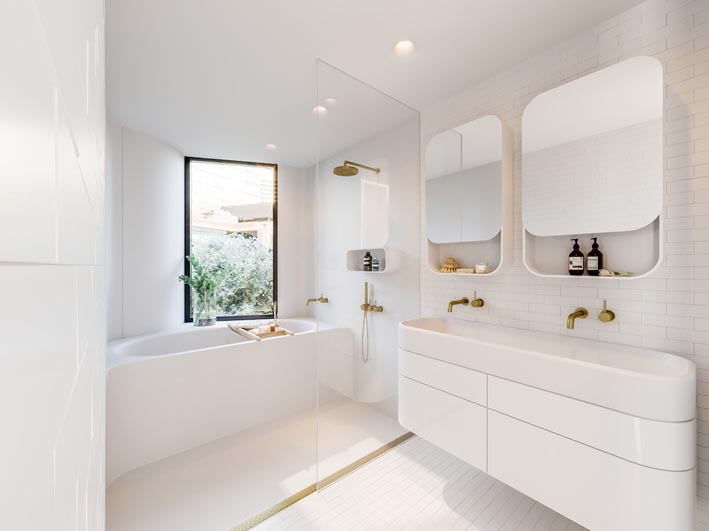 The concept for the bathing spaces divided the space into two areas; wet and dry. Within the wet area the designers were looking for a seamless integration of walls, floor and bath.
Corian®, with its joint-free installation proved the perfect material to achieve this intent.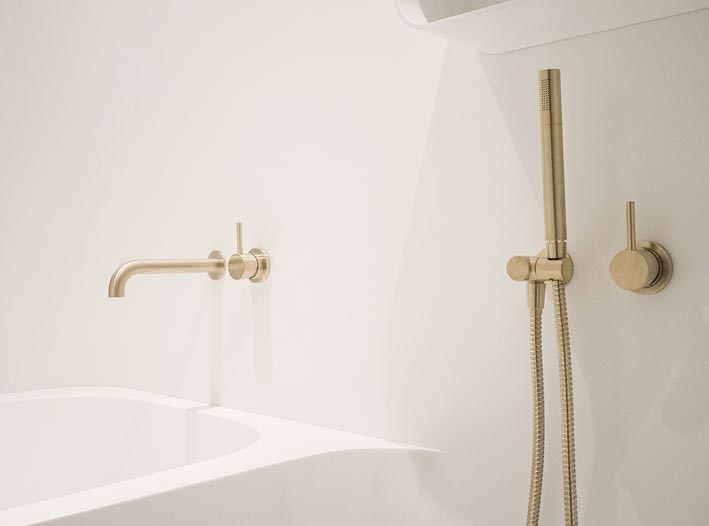 The project features seamless integration of bath, shower and all adjacent wet area surfaces, including the walls and the floor. Similarly, it showcases seamless integration of the basin with the vanity top to constitute a single surface joinery element.
For more information visit casf.com.au