The Corian Design Awards consist of four editions throughout the year. Winners of each edition then go head-to-head for the chance to be crowned the overall 2017 Corian Design Award champion, winning a trip to the prestigious Milan Design Week in April 2018.
The winning project this year is Canberra Airport, designed by Guida Moseley Brown Architects.  Designers involved included John Guida, Harold Guida, Paul Mutton, Rob McLachlan, Morteza Taheri, Alex Gray, Morgan Roberts, Michael Komnacki.  Judges who selected this project congratulated the team by saying;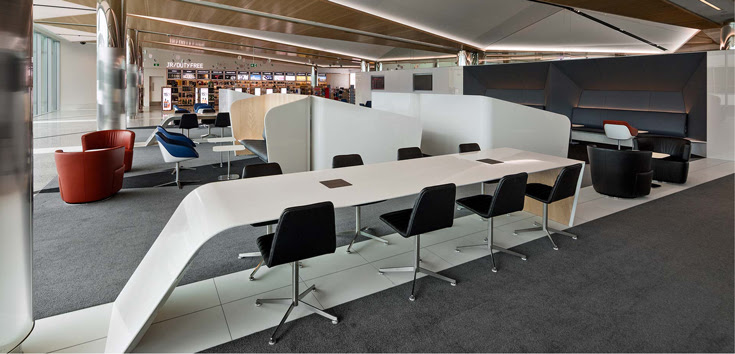 "The use of Corian® on this project exemplifies the potential of the material and the diversity of uses, in particular the use of Corian® for furniture items, ideal functionality for high traffic areas. GMB has very successfully met the client brief requirements of a 'world class international departure/arrival lounge of a high quality travel experience' to all passengers. This project is an excellent example where design combines strong innovative ideas that lead to an overall sleek contemporary outcome."
Importantly the lounge is beautifully integrated into the architecture of the space, and designed by the same practice. The GMB design lifts the spirit of passengers heading off on a new journey. Their furniture builds on the geometric dynamism of the spaces and the light filled quality of the terminal's main hall.
The custom designed desks of the public departure lounge appears to hark back to the burst into the stratosphere of the 'Concorde'. The world's very own 'Jetsons' lifestyle came into reality!

The special design of the desks and seating shells, and even the coffee tables exude an atmosphere of space travel, and even the futuristic Paul Cardin fashion of the 'Concorde' times. The selection of Corian® because it is highly durable and displays a contemporary visual image through the ability for thinness of elements, yet strong, robust and can be formed into the protective curved and faceted shapes.
The design has been well orchestrated with many highly considered details pivotal to the success of some of the airport's key public spaces.
Congratulations to all entries on outstanding submissions again this year showcasing the use of Corian in recreating style and design. The judging panel for 2017 welcomed Mark Healey, Bates Smart (VIC), Polli Woods, Polli Woods Interior Design (SA),  Alexander Lotersztain, Derlot (QLD),  Gary Giles, Cox Howlett & Bailey Woodland (WA) and Lina Sjogren (Francis-Jones), Francis-Jones Morehen Thorp Architects (FJMT).
The 2017 Corian Design Awards are organised by C.A.S.F Australia Pty Ltd. For more information visit https://casf.com.au/