In a new addition for 2018 – TKBB will be presenting a series of stories that investigate a prevailing trend in depth. For our first story we'll take a closer look at the Greenery/Nature trend.
We first noticed an increase of greenery and nature emblems and inclusions back in 2014 at iSalone but in 2016 at the same show it became an explosion. Almost every stand visited included a wealth of plants, natural materials and ways to encourage nature into the home. We noticed the same trend threads in 2015 and 2017 at Interzum where we saw materials manufacturers increasingly embracing neutral tones and natural textures.
Here are a few of our favourite products and design ideas we feel embody this trend.
Rossana K-IN and K-OUT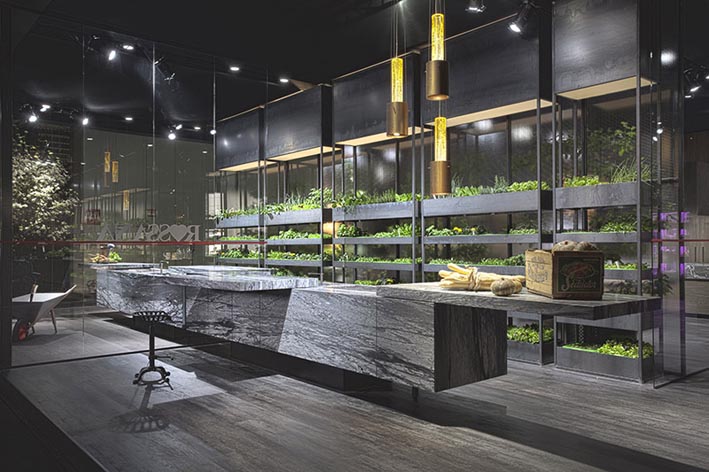 K-IN/K-OUT is an indoor/outdoor Kitchen by Italian manufacturer Rossana. A suspended base unit is raised off the floor thanks to an asymmetrical pedestal in burnished steel. The design takes one kitchen aesthetic but applies it for two different uses – indoors and outdoors – each requiring a specific system of construction.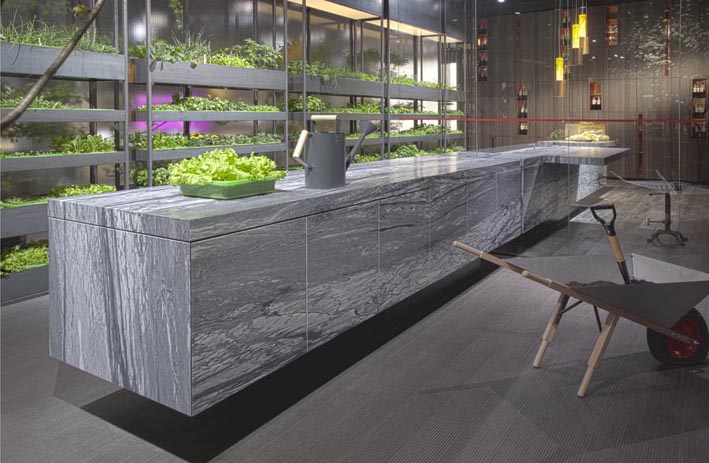 In both forms, the kitchen appears as a single, completely-closed block from which mobile planes extend laterally and longitudinally, changing its volume. By sliding various elements, a range of work/snack surfaces are revealed. The outdoor version is created entirely in steel, the doors have an aluminium structure with a thin stone cladding and the work surfaces slide on hidden glides for a completely waterproof outer surface when closed.
ST-ONE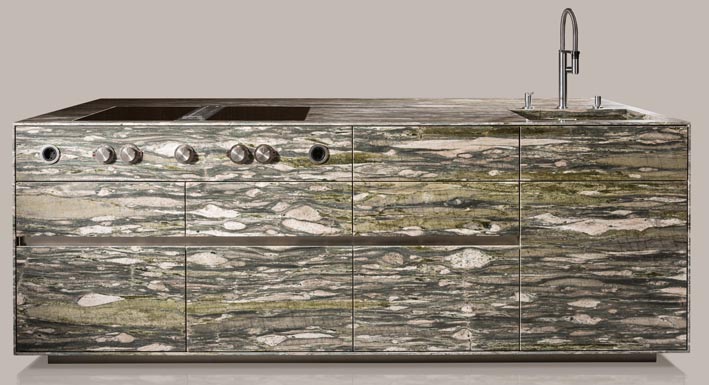 ST-ONE is a kitchen island made entirely from stone, designed and manufactured by Strasser. The design allows for the dimensions of the island to be personalised for each type of stone and to make it customisable to suit specific design requirements. ST-ONE is available in five types of stone and five design variants, providing the opportunity to access 25 basic styles which can then be customised.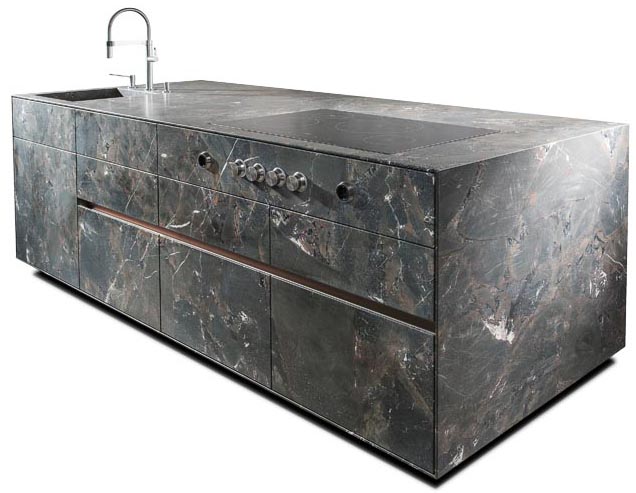 The latest addition to the range is "Terra" stone which is available in two surface finishes – polished or leather-look. Each island features solid wood drawers in smoked oak or European maple with first-class mechanisms to ensure smooth running.
Anima Liquida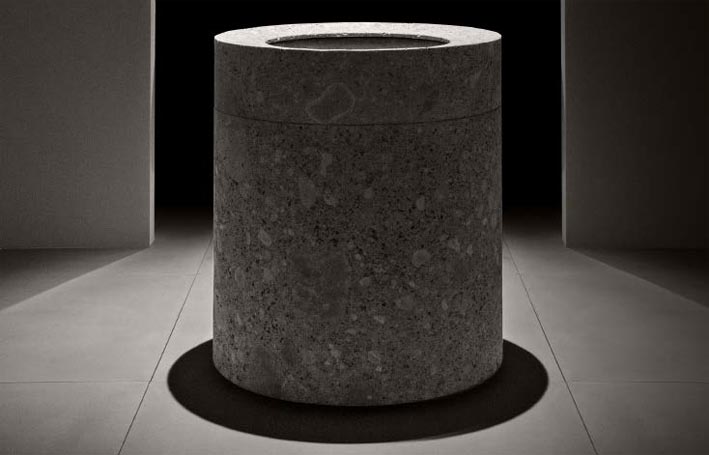 Designed by Giorgio Rava, Anima Liquida from Toscoquattro is a floor-standing washbasin which is carved from a single block of Ceppo di Grè natural stone. The column is firmly anchored to the ground and evokes the aesthetic of an archetypal baptismal font. The perfect shape of the circle and the beautifully simplistic lines cleverly conceal the tap underneath the inside of the top so the water appears as if from nowhere.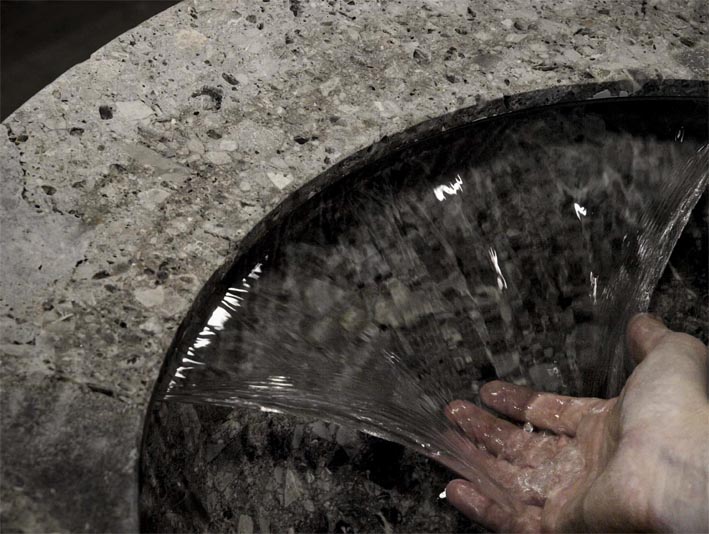 A clever hydraulic system allows the water to flow from a cascade blade hidden within the stone in a perfect balance of beauty and function.
Giunone by Edoné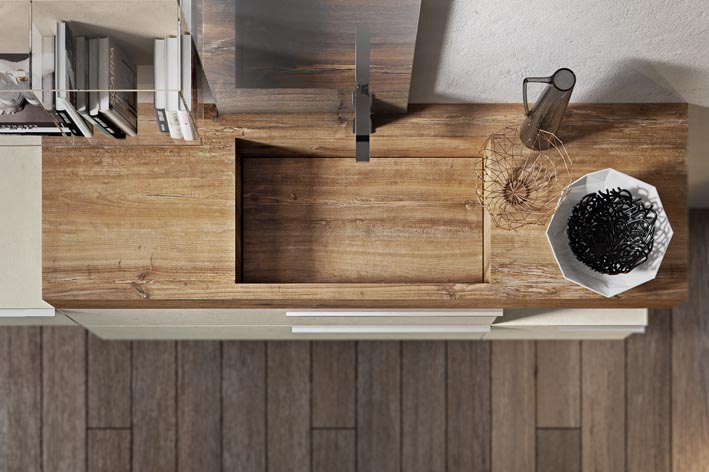 Giunone is the latest modern and elegant collection added to the Design line by Edoné. Giunone products are characterised by a structure that utilises water-repellent wood and features a new finish in HPL. The collection includes a range of materials and finishes from painted oak, to matte or gloss lacquer, to melamine.
The new HPL finish, made from layers of paper saturated with thermosetting resins and bonded via a combination of heat and high pressure, is exceptionally rugged and resistant to scratches, impact, abrasions, chemicals and heat.